Life-sized bronze sculpture to commemorate Canadian music icon
SUDBURY, Ontario – A Sudbury group has commissioned the first life-sized bronze sculpture of Stompin' Tom Connors, which it proposes to install in downtown Sudbury, Ontario later this year.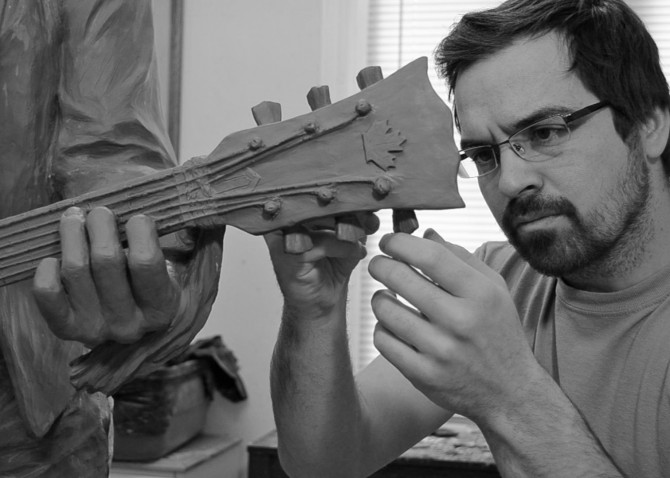 Tyler Fauvelle, a Sudbury-based sculptor whose figurative work is inspired by natural and cultural heritage, has just finished sculpting the work in clay, which is headed to the foundry for casting. "Stompin' Tom was a popular folk-country artist, a vocal supporter of Canadian culture, and an uncompromising patriot," said Fauvelle.
He added: "The work is a younger Tom Connors, from around the early 1970's. One of his most famous songs is part of Sudbury's folk history – but, this sculpture could be anywhere, because Stompin' Tom was everywhere, singing extraordinary stories about ordinary people."
Maureen Luoma, Executive Director of Downtown Sudbury, and a member of the committee, added: "Stompin' Tom left us with so much more than The Hockey Song and Sudbury Saturday Night; he gave us honest musical stories about Canada and its people. It's our great privilege to honour the man who was the people's poet, who encouraged us to stand up for our country. This fine art tribute speaks to our city's vibrant arts community, and to our affection for a true Canadian voice."
When asked about funding, Luoma said: "At this stage, we hope to raise $50,000 from community donations and events, and we're looking at a national fundraising campaign. We're counting on everyone who values this great Canadian to give us a hand."
Contact: Deb McIntosh
Tel: 705-662-0115
stompintomcommemorative@gmail.com
Photo: Sculpture by Tyler Fauvelle