SUDBURY, Ontario – J.P. Cormier, an award-winning Canadian singer-songwriter, was at the Townehouse Tavern on February 6, 2014, and took time out to talk with Paul Loewenberg, Operations Manager of the Townehouse, and Tyler Fauvelle, a local sculptor, about the late Stompin' Tom Connors.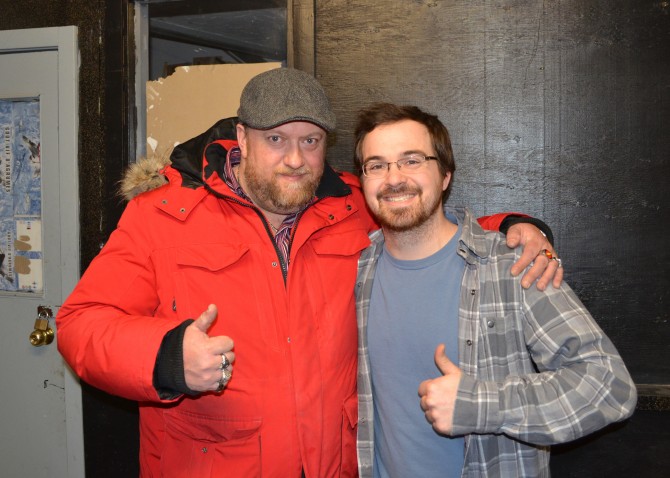 Loewenberg and Fauvelle are part of a Sudbury group which is raising funds for a life-sized bronze sculpture commemorating Connors. The group hopes to install the sculpture in downtown Sudbury later this year.
Cormier, who sings and plays mainly bluegrass, folk and Celtic music, was born in London, but grew up in the Maritimes. His father died when he was a child, and he lived in poverty until he left home at the age of 15. His first regular paycheques came from Stompin' Tom Connors, and they became life-long friends, with Connors a father-figure to the young musician.
As Cormier speaks, his affection and respect for Connors come through clearly. He talks about Tom's character – the restless drive that took him across Canada, connecting him to the land and its people: "He walked across Canada three or four times in his lifetime, walked across the country, walked and hitchhiked with nothing, no money, no nothing, just his clothing and a guitar…But it was in him, that's what he was meant to do. Right to the end, he had all that wisdom, he had such a fire in him for life, it was contagious."
This is the first life-sized bronze in honour of Connors, and the conversation turns to Stompin' Tom's legacy. Cormier still finds it hard to refer to Tom in terms of legacy: "I don't think we're actually even aware he's gone, yet. It hasn't hit us, yet. He was so much a part of everything for so long – part of Canadian culture…Just everybody knows a Stompin' Tom song, or has seen him live, or has a record. I think as time goes on, Tom's legacy will become clearer…We'll look back and see what he did, and think to ourselves: Man, if he hadn't done that, we might not be doing this."
Is he referring to Stompin' Tom's often fractious relationship with the music industry? Cormier nods and says: "Yeah, [it] obviously changed the game for everyone. He gave our artists power that we never had before, because he gave us confidence, you know, to just be Canadian, and do what we do, and present that to an audience of other Canadians…Tom gave us a lot of power that way, strangely enough, by staying in the country."
During their conversation, Fauvelle mentions that he was particularly moved by "House of Plywood", a song written by Cormier in tribute to Connors, who died last March at the age of 77. Cormier says that when Connors was planning his funeral, he asked if J.P. would "sing a song for him". He did, and when he got back to his hotel after the private funeral service, he says "House of Plywood" just came to him. "It just didn't take any time…Every word of that song was right out of his life, I didn't take any liberty. I either said in the song things he actually said to me, or things that I knew about him for sure…It's easy to write a song like that about someone like him….It's hard to sing it, though." Cormier hasn't performed the song publicly in awhile, but thinks it might be time to include it, again. Thoughtful and quiet, he adds: "I don't want anybody to forget him."
Cormier's currently on a solo tour of Canada, connecting with the land and his fans, another true Canadian voice.
To hear "House of Plywood" by J.P. Cormier, please go to YouTube.
Sculpture by Tyler Fauvelle
Photo: Sculpture by Tyler Fauvelle