TIMMINS – The work of a Northern Ontario artist will stand proudly in Downtown Timmins next summer.
Members of the Kobzar Park Rejuvenation Committee recently announced they have selected Tyler Fauvelle, a talented Northern Ontario artist based in Lively, to create a bronze statue for Kobzar Park located in the downtown.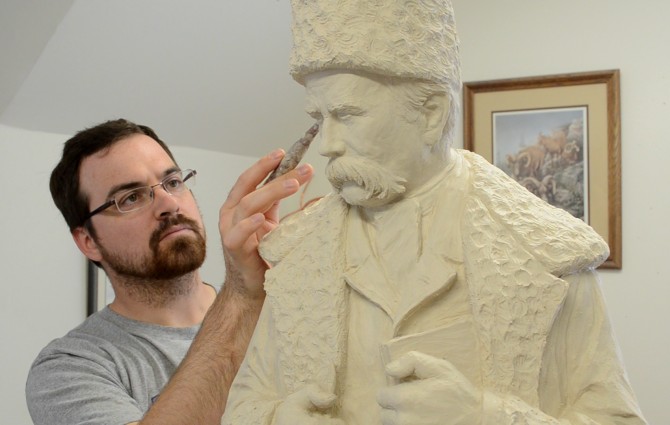 The statue depicts the famous Ukrainian poet Taras Shevchenko, and is being created to celebrate the bicentennial of his birth in 2014.
The height of statue will be four feet tall and depicts Shevchenko standing in traditional winter dress with a Persian lamb skin hat, holding a collection of poetry close to his heart. The sculpture is currently at a foundry in Toronto waiting to be cast into bronze and will be officially unveiled at Kobzar Park in Downtown Timmins in August 2015.
Timmins will join the ranks of Winnipeg, Oakville, Ottawa, New York, and Washington as cities in North America that have statues dedicated to Shevchenko.
Kobzar Park is located in on the corner of Mountjoy Street South and Second Avenue. The park was officially established in 1981 and dedicated in 1984 to recognize the contibutions of pioneer settlers to Canada and the Porcupine Camp.
A central feature of the park was a marble statue of Taras Shevchenko which was vandalized beyond repair in the early 2000's. Fundraising for the project started in March 2014 with seed funding from the Ukrainian Cultural Group of Timmins.
Kobzar, the name of the park, is also the title to a collection of famous poems written by Taras Shevchenko.
Fundraising efforts are ongoing, as funds are still needed to complete upgrades in the park, including: purchasing plantings for new flower beds, sandblasting and painting the metal entrance gate, installing two plaques, installing a story board, hiring an arborist, pressure washing and sealing the concrete monument, and installing rain barrels.
Donations can be mailed or dropped off at the Timmins Museum – 325 Second Avenue, Timmins, ON P4N or by emailing kobzarpark@gmail.com. Donors will receive a tax deductible receipt.
Significant donors making this project possible have included: the Temerty Family Foundation, The Ukrainian Canadian Foundation of Taras Shevchenko, Ukrainian Credit Union, Ukrainian Seniors Centre (Sudbury), Ukrainian Cultural Group of Timmins, as well as local businesses including: NISG-Heritage Paving, Kidd Operations, Goldcorp, IAMGOLD, Porcupine Insurance, and local individuals.
Taras Shevchenko was a significant contributor to the literary arts during the mid-1800's in Ukraine. He is the national poet of Ukraine, equivalent to William Shakespeare in England, Robert Burns in Scotland, and Victor Hugo in France. Translations of Kobzar into various worldwide languages attest to Shevchenko's poems impact on world culture.
A professional sculptor inspired by history and nature, and especially interested in exploring the human heroic impulse, Tyler Fauvelle sculpts in clay, and casts his work in bronze. He created three seven-foot bronze statues, located at the Timmins Museum, for the Timmins Centennial in 2012.
Source: Timmins Press
Photo by: Sculpture by Tyler Fauvelle