SUDBURY, Ontario – The Rainbow Routes Association and Sudbury-based artist Tyler Fauvelle today unveiled a family-friendly sculpture on the New Sudbury Trail. The larger-than-life artwork was sculpted in clay, then cold-cast in a specially-formulated medium at the artist's studio.  The artwork is located near water, on the 3 km trail.
"As people explore the trail, I hope they'll enjoy the sculpture, and think about the other creatures who share the Earth with us," said Fauvelle.  "The sculpture was inspired by river otters playing in the water, not far from my studio.  It's a pleasure to create this type of artwork for a community space."
The artwork was commissioned by the Rainbow Routes Association for the New Sudbury Trail, which was developed with the help of a Canada 150 Grant and generous community partners.
Daniel Barrette, Executive Director of Rainbow Routes Association, said:  "The community really looked forward to the New Sudbury Trail. It's easy to explore, and offers a number of natural features along the way.  It's close to where people live and play. The new sculpture is one of the gems that make this a special community trail."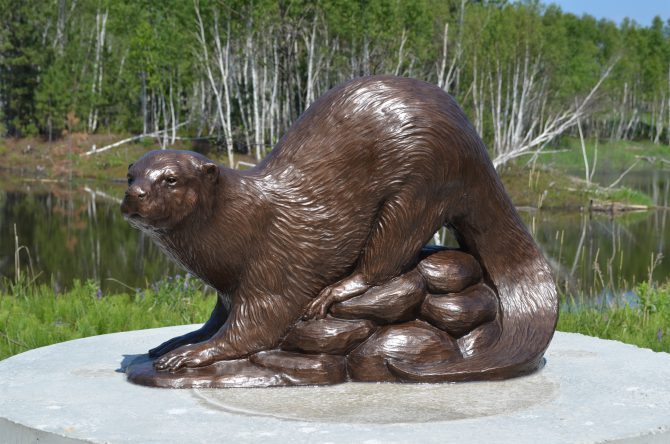 Tyler Fauvelle is a professional sculptor based in Sudbury, Ontario. He created the Stompin' Tom Connors commemorative bronze, which is located in Downtown Sudbury.   His most recent public artwork is a bronze military memorial unveiled last October in St. Thomas, Ontario.  For more information about the artist, visit www.tylerfauvelle.ca.
For more information about the New Sudbury Trail, visit www.rainbowroutes.com/new-sudbury-trail-1/ .
Sculpture by Tyler Fauvelle
Photo: Sculpture by Tyler Fauvelle