SUDBURY, Ontario – The bronze sculpture honouring one of Canada's greatest folk/country artists, Stompin' Tom Connors, found a home today. The life-sized bronze, commissioned by the Stompin' Tom Connors Commemorative Committee, was unveiled at the Sudbury Community Arena in downtown Sudbury.The artwork was created by Tyler Fauvelle, a Sudbury-based professional sculptor, who exhibited the bronze at the Northern Lights Festival Boréal in July. This is the first public monument of its kind to honour Connors, who wrote Sudbury Saturday Night, a song recognized from coast to coast.
"I'm glad Sudbury is home to this sculpture," said Tyler Fauvelle. "Connors sang the stories of Canada, and stood up for our culture. I hope Canadians will never forget his true, Canadian voice."
Maureen Luoma, Executive Director of Downtown Sudbury BIA, and committee member, said: "Stompin' Tom is part of Sudbury's folk history, and we're proud to be the first to honour him in this way. Downtown Sudbury has a vibrant arts community, and we're grateful to the City for providing this public location, where everyone can enjoy the bronze."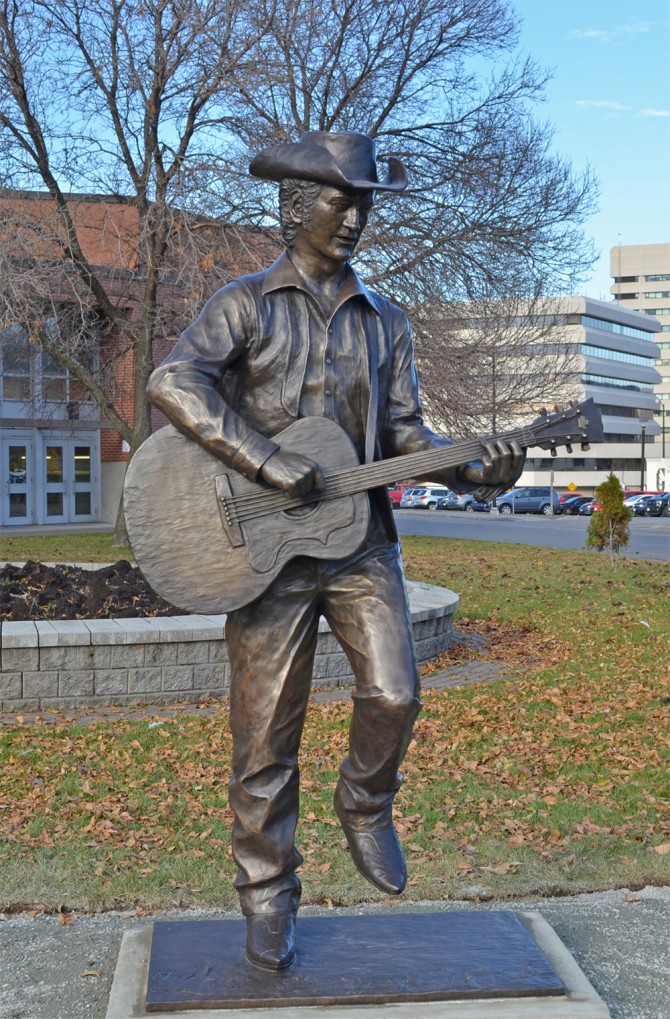 "You know, there's music at the arena, special events, and hockey – it's where people of all ages gather to be entertained and connect with each other. I think Stompin' Tom would have liked that."
Connors, a popular folk/country artist known for his devotion to Canadian music and culture, died in March 2013.
Sculpture by Tyler Fauvelle
Photo: Sculpture by Tyler Fauvelle