Tyler Fauvelle, a Northern Ontario-based sculptor, recently unveiled "We See Thee Rise", a montage of heroes of the War of 1812.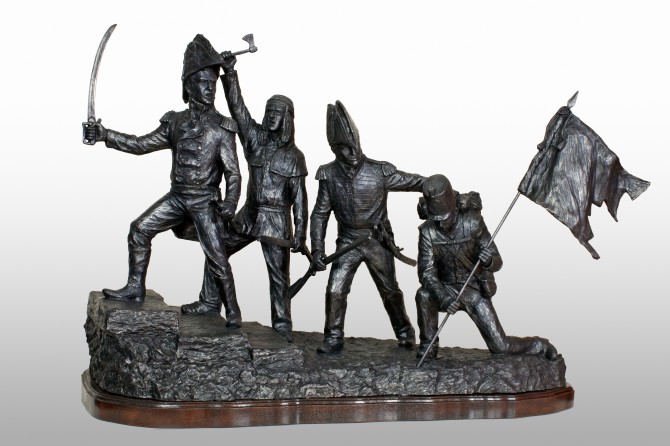 Many will recognize Brock, Tecumseh and De Salaberry, key figures in the 1812-1815 conflict, but may wonder: Who is the young soldier struggling to rise with the flag? The artist based this fourth figure on Major John Richardson. Born in Upper Canada, Richardson volunteered with the British 41st Foot when he was around 16 years old. After the war, he became known for writings such as the epic poem "Tecumseh", the novel "Wacousta", and historical narratives about the War of 1812. And so, a young man who fought in a war that helped set the foundation for modern Canada, was also the first Canadian novelist writing in English.
Asked what inspired him to create this piece, Tyler said: "These men were from Britain, Ohio, Quebec and Queenston – not all of them were together during the same engagement, but they helped to change the course of Canada's history. This sculpture is in their honour." Tyler added: "Look closely…Even though our maple leaf was more than 150 years away, it's there, all the same…"
"We See The Rise" is an art resin, mounted on a polished oak base, measuring approximately 46" L x 30" H x 19" W. Sculpted, cast and finished by Tyler Fauvelle, this work is a limited edition; only six castings will ever be made.
For more information, contact Sculpture by Tyler Fauvelle.
Sculpture by Tyler Fauvelle
Photo: Sculpture by Tyler Fauvelle