Three larger-than-life bronze sculptures were unveiled at the Timmins Museum/National Exhibition Centre on August 4, 2012, during a public ceremony.
The 7 ft bronze sculptures, mounted on granite bases, commemorate prospectors Sandy McIntyre, John "Jack" Wilson, and Benny Hollinger, whose spectacular gold discoveries launched one of the biggest gold rushes in history.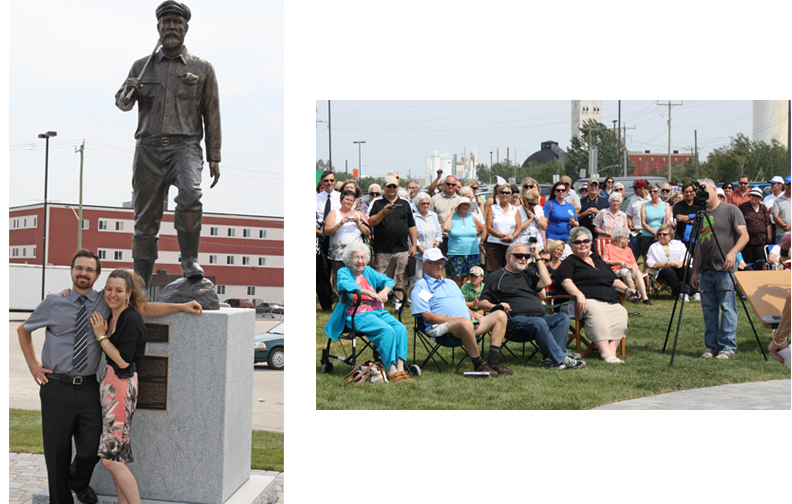 Commissioned by the Porcupine Prospectors and Developers Association in honour of the Timmins Centennial, the legacy project received funding from all three levels of government, as well as Goldcorp and other community partners.
The event was well-attended, and the crowd included modern-day mine finders, such as Hemlo co-discoverer John Larche. Descendants of Jack Wilson and Sandy McIntyre came from as far away as California to attend the unveiling, and share some stories. Mayor Tom Laughren, one of the dignitaries to speak at the ceremony, said the monuments will "…forever immortalize in our history, three legends, credited with the discovery of our biggest gold mines – mines that are still operating and producing gold 100 years later."
Tyler Fauvelle spoke about the sculptures, and the men who inspired them: "I really enjoyed talking with the Wilson and McIntyre families. I heard many stories, and learned much about these men, who were tough, persistent dreamers. They were ordinary people, who had no idea at the time that they were going to be part of Canadian history." Tyler also said that "one of my favourite moments today was when Sandy McIntyre's great-niece gave me a hug, and told me how much Sandy would have loved the sculptures."
Timmins is known as the "City with a Heart of Gold", and so Tyler sculpted a small, burnished heart into each sculpture. He invites everyone to look closely, to see if they can find the hearts – and then give the prospectors' boots a quick pat, for good luck.
Sculpture by Tyler Fauvelle
Photos: Sculpture by Tyler Fauvelle